GPON STICK, with one MAC chipset inside, so it can be called the GPON ONU in SFP module package. GPON STICK can convert the PON networks into normal Gigabit networks easily to replace the SFU CPE.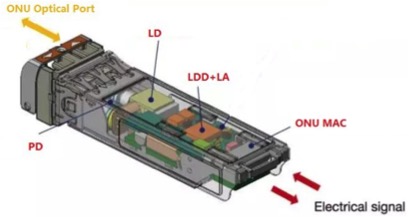 GPON STICK can totally meet the equipment requirements of FTTB/ FTTH / FTTO. After hot-swapped inserting into the 2-layer Ethernet Switch's SFP slot, the Ethernet Switch can be used as ONT or even MDU, because it can be connected into the GPON optical networks directly. Then the OLT will operate the remote device just like the normal GPON ONU terminal. Therefore, the original P2P networks, plus one GPON STICK, can be used in the GPON networks. GPON STICK also supports OMCI management interface (e.g. updating the GPON STICK module firmware at the OLT side), can meet the high-speed transmission rate in uplink 1.25Gbps and downlink 2.5Gbps, can co-operate with the communication equipment to support logical identity (LOID) authentication, Dying Gasp, PON link status indication, optical module abnormal light off functions, etc.
Here's the typical application field 1, mixed application networks upgrading.
GPON STICK can be inserted into one digital camera device, into one AP device, into one DSLAM device or Ethernet Switch device to make the target device be with PON uplink interface.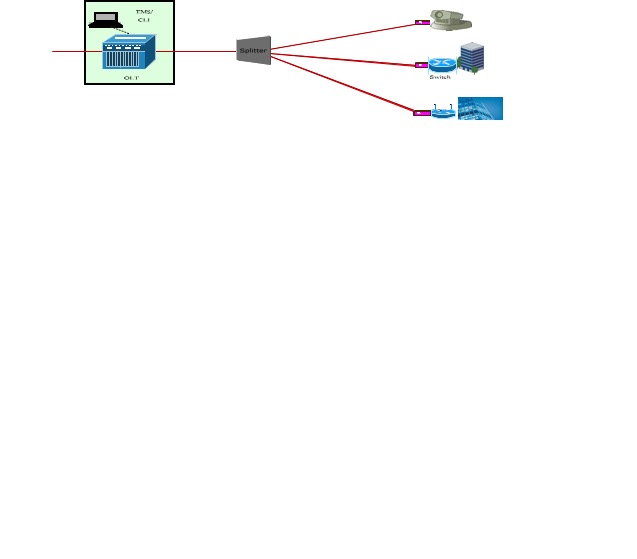 Here's the typical application field 2, old residential P2P networks upgrading.
The original networks is a P2P networks with the cable accessed to
each home already. Normally if the resident wants to accelerate the speed or capacity, it means more P2P Switches and more fiber will be used. However, if deploy the GPON STICK with Optical Splitter, only one piece of fiber can be OK when accessed into the GPON networks. That means it can achieve more households access through the splitter optical path aggregation without adding one fiber.

Here's the typical application field 3, VOIP gateway upgrading. The current VOIP networks in PON ODN must use one external
PON ONU CPE, with the external power supply, which is not easy for system integration. Here if the hot-swappable GPON STICK is used, the connection will become very simple. It will finally help the end user simplify the networks and increase the system integration.

Here's the typical application field4, wireless backhaul capacity expansion.
Based on the existing BBU and RRU networks, it needs 6pcs optical modules, 3pcs are for BBU and 3pcs are for RRU separately, and 3pcs or 6pcs optical fibers between the BBU and RRU must be employed together. As seen, the P2MP technology of PON networks, is very suitable for replacing the short distance P2P networks can saving fibers, and the rest of the fibers can be used for new employed BBU and RRU.