Sinovo Telecom have searched and developed GPON products with full range of GPON solutions.

It includes GPON modules,GPON ONU & OLT. Our GPON solutions have got recognition from Vietnam, Malaysia,Indonesia.

FTTx networks can now be deployed reliably and cost-effectively. GPON is the latest optical fiber network. it's a network architecture that brings fiber cabling 
and signals to the home(FTTH), building(FTTB), premises (FTTP). It use a point-to multipoint scheme that enables a single optical fiber to serve multiple 
optical network unit (ONU).Our GPON ONU can provide Triple Play(TV, Voice and Internet ) function.

Most utilize passive optical network (PON) configurations, which combine fibers from up to 32 (or sometimes 64) subscribers into a single fiber at the splitter 
cabinet, up to 20 km (or up to 60km using an extender device) distant from the access hub, which is often located at a central office. This network architecture 
simplifies fiber deployment and management, and is the architecture used in today's networks. 

There are three key optical modules required for these PON systems (see diagram above): 1) an optical network unit (ONU) transceiver at the subscriber 
premise (a Subscriber Unit): 2) an optical line terminal (OLT) transceiver at the access hub which handles traffic from multiple subscribers (a Line Unit): 
3) a passive optical device, either a splitter or a multi-channel filter, which combines the multiple end-user fibers at a splitter cabinet into the one fiber
 which continues to the access hub. serves the FTTH market by manufacturing all of these types of PON modules for both of the main standards (GPON and GEPON). 
FTTx Solution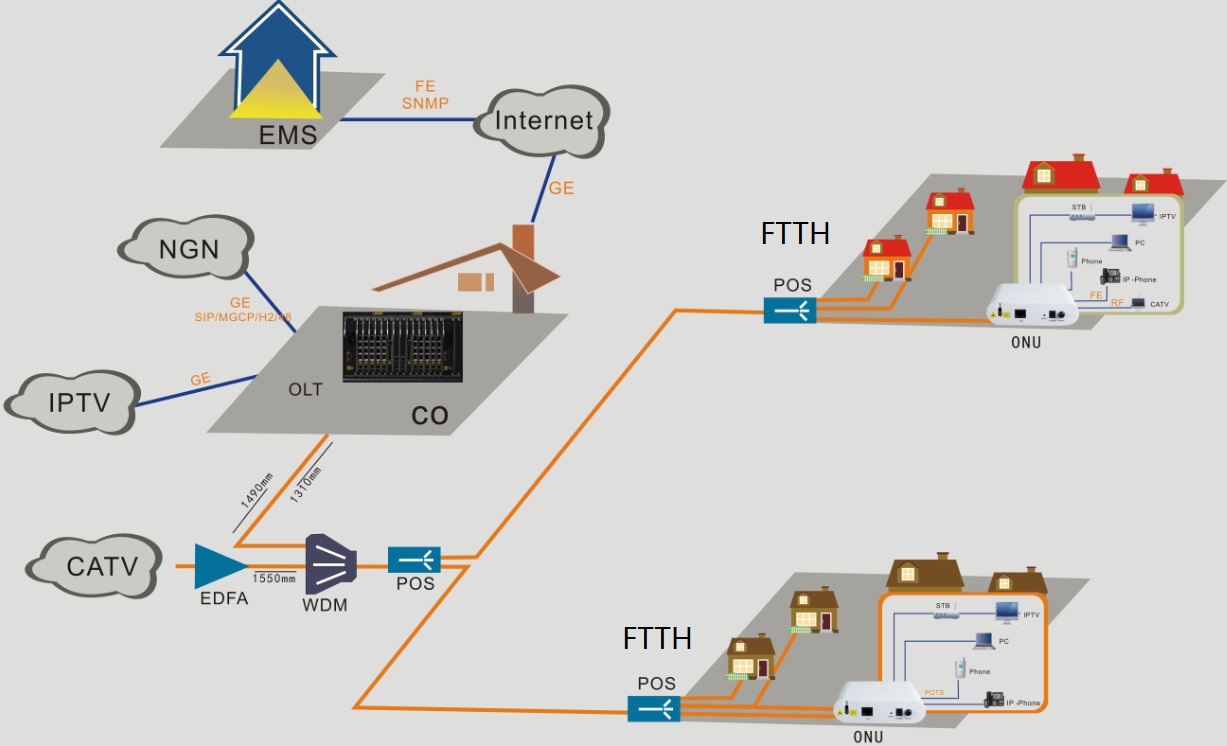 Video Surveillance Solution